Saturday, May 28 2020 @ 6:30PM: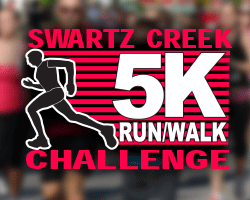 Race Date:
Thursday, May 28, 2020

Starting Time:
5K Run/ Walk starts at 6:30 PM

Location:
Swartz Creek High School, 1 Dragon Drive,
Swartz Creek, MI 48473

Course:
Course is 100% paved, flat.

Registration:
Early Registration ends on May 21, 2020.

Late Registration and packet pick-up available at Bauman's Running and Walking Shop:

Wednesday, May 27, from 12:00 PM to 8:00 PM,
Race Day: 10:00 AM to 2:00 PM.

Registration at the race site begins at 5:00 PM.


Late registration ends 15 minutes before race start.

Entry Fees:

On or Before May 21
Event WITH Shirt - $21.00
Event WITHOUT Shirt - $11.00

After May 21
Event WITH Shirt - $26.00
Event WITHOUT Shirt - $16.00


Students 18 years old and younger can race for only $5! (Does not include Race Shirt)

2020 Calendar Year Riverbend Strider Members can deduct $2 From Pre-Registration Fee by Using Promo Code: STRIDER2020 at checkout.

Facilities:
Restrooms are available.

Awards:
Awards are given to the Overall and Masters Male & Female, and top three finishers in each division. All pre-registered entrants will receive a shirt. Sorry, but we cannot guarantee shirts on race day to late registrants. Post race amenities.

Prizes:
Overall Male & Female for both Runners and Walkers will receive a free entry with shirt for a future Riverbend Strider race of your choosing good for up to 1 year.

Age Groups:
Runners (Male and Female) - 12 & Under, 13-15, 16-19, 20-24, 25-29, 30-34, 35-39, 40-44, 45-49, 50-54, 55-59, 60-64, 65-69, 70-74, 75-79, 80 & Over

Heavyweight Division - Three special award categories for men 185-199 pounds, 200-219 pounds and 220 pounds & over.

Walkers (Male and Female) - 19 & Under, 20-29, 30-34, 35-39, 40-44, 45-49, 50-54, 55-59, 60-64, 65-69, 70-74, 75-79, 80 & OverI

Information:
Bauman's Running & Walking Shop: (810) 238-5981